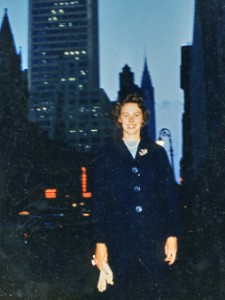 Renee Eleanor Inez Lloyd was born on 30 December 1937 in Dorking, Surrey, the daughter of Eleanor Ida Man and John Alexander Lloyd.
She married Thomas (Tom) John Tovey on 28 April 1962 at St. Giles, Ashtead, Surrey. Thomas was born on 15 July 1938 in London.
Renee died on 10 November 2006 in Menorca, Spain.
Renee and Tom belong to Generation Eight; their children belong to Generation Nine and both are living.
Renee studied Spanish at Leeds University and on graduating she joined British Overseas Airways Corporation (BOAC) which has since become British Airways. The photographs on this page show her in her BOAC air hostess uniform. High heels and white gloves were part of the uniform.
Note behind Renee (below) are the wooden sheds that were once Heathrow airport. The color photograph (above left) shows her standing on 42nd street in New York City with the Chrysler building in the far distance.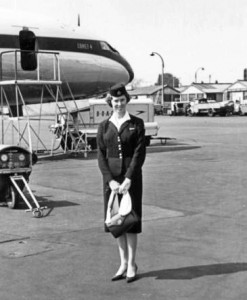 Renee's ashes were placed in the graveyard of the parish church at Oxted.