John Henry Garnet Man was born on 14 October 1906, in Rangoon, Burma, the son of Edward James Fowle Garnet and Beatrice (Crofts) Man. He was baptised on 21 December 1906 at Rangoon.
He married Margaret Isabel Durnford on 20 August 1938, at Bickley, Kent.  John died on 16 October 1993 in Benenden, Kent.
Margaret (Peggy) was born on 31 May 1912, at Bickley, Kent.  Peggy was the daughter of Philip Barton Durnford of Bickley.
She died on 9 April 2001 at Benenden, Kent.  John and Peggy belong to Man Generation Ten; their four living children belong to Man Generation eleven.
In 1907, soon after John was born, his uncle Morrice Lionel Man was ordered to Bournemouth to recoup from having been ill from asthma. While staying there Morrice and his wife Dora composed a calendar that they called: 'The Catholic Calendar of the Man Family: Sayinges 1907'
There are 31 days with illustrations and commentary for each day. The illustrations were by Dora and the sayings were by Morrice.  Among the drawings are two that are of interest with regard to John Henry Garnet Man because on two pages he appears as John Henry Desborough Man.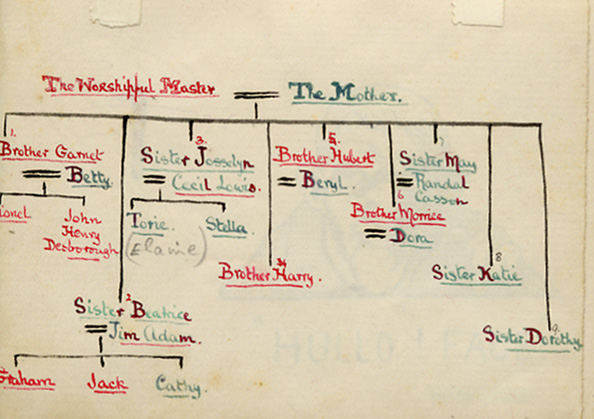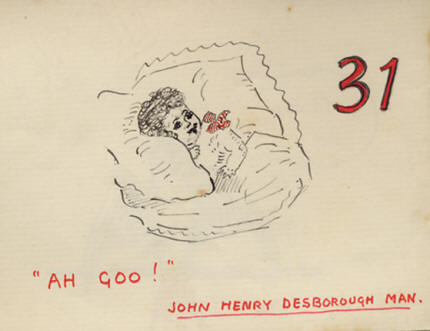 Much later John appears on a list of passengers arriving from Chile via Argentina at the Port of London aboard the Highland Chief on 5 February 1931.