Alphonse Louis Reis was born on 21 January 1860 at 5 Chatsworth Street, Liverpool, the youngest son of Jonas and Marian (Samuel) Reis.
He married (1) Marian Dugan on 5 September 1883 at civil ceremony in Glasgow, Scotland.  Then, on 10 September, 1884, they were married in an orthodox Jewish ceremony at Garnet Hill Synagogue, Glasgow. They separated (but did not divorce) sometime before 1914.
After Marian's death in 1929, Alphonse married (2) Margery Burn Dow on 1 July, 1929, at Willesden.  He died on 25 February, 1940, at 56, Gladstone Place, Aberdeen, Scotland and was buried at the liberal Jewish cemetery in Willesden, London (see picture below).
Marian Dugan was born in 1859 in Ireland, the daughter of Ezekiel Dugan of the Royal Irish Constabulary and Elizabeth Stafford.  Marian died on 16 June 1929 at 55 Arden Street, Edinburgh, Scotland.
Margery was born on 18 August 1870 at Fountainbridge, Edinburgh, the daughter of Henry Waters and Grace Forsyth.  She died on 13 April 1941 at 56, Gladstone Place, Aberdeen, Scotland and was also buried at the liberal Jewish cemetery.
Alphonse Louis and Marian belong to Reis Generation Two; their children belong to Reis Generation Three and are:
Emile Montagu
The child of Alphonse Louis and Margery also belongs to Reis Generation Three and is:
| | | |
| --- | --- | --- |
| | | |
| Death notice of Alphonse in The Times. Although based in London, Alphonse was in Aberdeen when he died; he was then buried at the liberal Jewish cemetery in London. | Death notice of Margery Reis in The Times. | Death notice in The Times for Marian, ALR's first wife. |
NOTES: The civil marriage between Alphonse and Marian occurred in September 1883 and Charles, the eldest child, was born in October 1883.  The address for both parties on the marriage certificate (which can be viewed HERE in PDF) indicates the same residence – 135 Paisley Road, Glasgow.  One year later they were married at Garnethill Synagogue. This tells us that Marian converted to Judaism.  Marian would have had to have received religious instruction and satisfied the religious authorities as to her knowledge of Judaism and its traditions as well as her sincerity, etc.
Margery, ALR's second wife, was a divorcee (her first husband being James Dow). Her marriage to James Dow occurred on 8 June 1892 at 12 Ravelston Park, Edinburgh. James was born in 1863.  His parents were James Dow and Margaret Collins.
The child of Alphonse and Margery, Isolda Reis, was born in 1914.  In his will Alphonse says he has resided in England for sixteen years.  The will is dated 1931 which would mean he had resided in England from approximately the time of Isolda's birth.  This is probably the point when Alphonse left Marian, his first wife. It is interesting to note that the Times death announcement for Marian (above), made over 15 years after ALR's departure, specifically mentions him and gives his London address.
Alphonse, like other members of the Reis family, was a jeweler with shops at Edinburgh, Dundee and Aberdeen.  He was however a very talented piano player, and often said that if he had had a choice he would have tried a career as a pianist. In the 'Edinburgh Professions and Trades Directory' (1920 edition) is listed under the section 'Jewellers and Gold and Silversmiths' the following:
Reis, A Louis & Co, 8 & 10 Leith Street, also 36 South Bridge. This means that ALR owned shop premises in two quite diverse areas of the city, i.e. Leith Street serving a more working class community, whereas South Bridge allowed them to diversify and target a much more upper class market.  Another extract from the Directory gives the following information on H. Samuel:  Samuel, H. Ltd., 40 North Bridge, 25 Princes Street, and 46 Leith Street
ALR was also a Freeman of the City of London, and a spectacle maker (?).  His birth certificate can be viewed HERE (<— PDF), his will can be read here HERE. (<— PDF).  Marian (Dugan) Reis's death certificate can be viewed HERE (<— PDF) and Margery's death certificate can be viewed HERE (<— PDF).
Above left: The first five children from left to right Emile Montagu (aged 4 years); Gordon Stanley (aged 4 months); Harold Charles (aged 6 years); Cyril Herbert (aged 19 months); Albert Victor (aged 3 years).  This photograph was taken September 1889. The same above right with some slight rearrangement. Below the children as young adults in the following order from top to bottom: Harold, Cyril, Norah, Albert Victor, Gordon, and Louis Norman
Alphonse Louis (below) was a mason and he rose to the position of grand master of the Edinburgh lodge. He is pictured here in his full grand master regalia.  A number of his sons also became masons. A reference to ALR has been found in a Masons journal as follows:
"Bro. Alphonse Louis Reis, Jeweller, M/m. of Lodge Montefiore, 753, Glasgow, and Affiliated to Lodge No. i Edinburgh, was Exalted on 15th January 1890. He made his mark in the Chapter as 1st Sojourner, an Office he held for seven years, and was rewarded by Elevation to the Chairs of J., H., and Z. He is one of Edinburgh's Justices of the Peace, and was R.W.M. of Lodge No. 5 in succession to Bro. John Rex."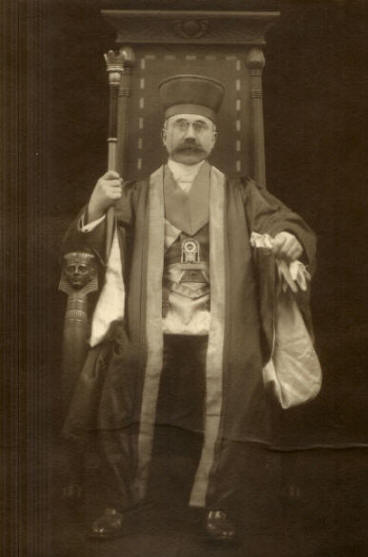 The following image from a Liverpool newspaper of July 30 1878 shows ALR's early commercial instincts:
Transactions of the Royal Scottish Society of Arts, Volume 16 (1906):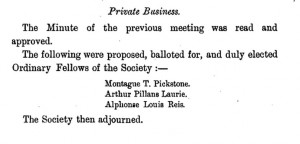 Below ALR as a fully bearded young man.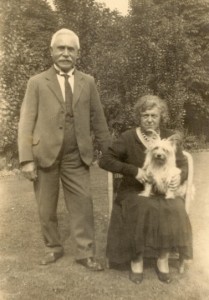 The grave of Alphonse Louis Reis and his wife Margery Burn Reis who both died at Aberdeen, but were buried at the Jewish cemetery at Willesden, London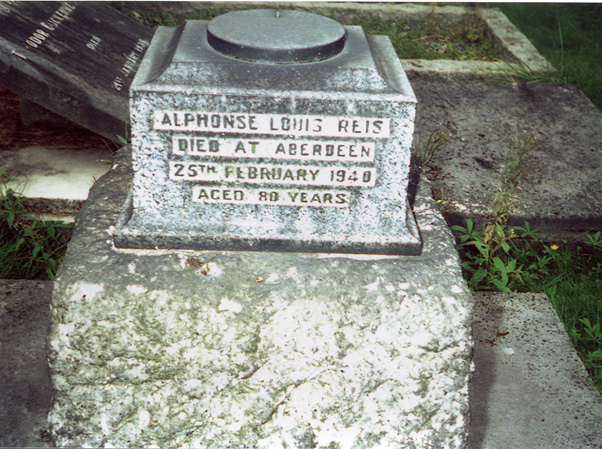 Above, the home of Alphonse Louis and Margery Reis at 6 Mapesbury Road, London, today and below how it appeared in the 1920's.

Above left 55 Arden Road in 2004 where Marian (Dugan) Reis lived and died. The area of Edinburgh, Marchmont, where Arden Street is located. View taken from the Castle.
No 2 Bright's Crescent where ALR and family resided sometime after 1889.  [Thanks to Mary Boyle for these pictures and the extracts from the Edinburgh Directory.]
Above, an example of a piece of ALR's jewelry.  Thanks to VW.
Five photographs of ALR's shop in Dundee in the early 1900's can be found following these links:  
ALR also published a number of postcards which can be viewed following this link.
This photo of ALR's shop in Aberdeen comes from the book "Lost Aberdeen" about buildings that have vanished from that city.  There is now a Starbucks coffee shop where ALR's shop once was and the rest of the street is covered by the St Nicholas shopping centre. From the look of it this picture appears to have been taken in the early 1960's.
To return to the Reis Family page click HERE.