The Bowes family appears here because in January 1649/50 Margaret Craddock (first cousin of Susannah Craddock, a direct ancestor of the Man family) married Ralph Bowes (born 1627) of Bradley Hall and they continued the senior male Bowes line until it ceased on the death of Thomas, Margaret's great grandson (see (4) below). There are some descendants living of Ralph and Margaret's through the female line. Margaret's husband's great grandfather was Sir George Bowes (1527-1580) (pictured right) and Sir George's mother was Elizabeth (Aske) Bowes.
Sir George's sister, Margery Bowes, married the Scots reformer John Knox and his brother was Robert Bowes (pictured below left) and whose correspondence can be read HERE). Margaret Craddock's sister-in-law, Anne Bowes, married Sir Francis Blakiston. The son of Ralph and Margaret (Craddock) Bowes was:
George Bowes (c1650-1729) who married Sarah Baker and their son was:
Thomas Bowes (1687-1752). He married Elizabeth Pickering, the daughter of John Pickering of Hedley Hall. Their children were George, Ralph, Sarah and Jane*. Thomas's eldest son George succeeded him but George died unmarried so Ralph succeeded his brother George:
Ralph (or Robert?) Blakiston Bowes (c1710-1767) married on 5 February 1756 Ann Clement, the only daughter and heiress of Ralph Clement. Ralph was succeeded by his son:
Thomas Bowes was born on 29 June 1758 and succeeded his father Ralph. Thomas died in March 1844 and was the last male representative in name and descent of the senior branch of the Bowes family. His obituary appeared in the Gentleman's Magazine and can be read here

. Thomas toured Sweden with two companions and he appears with them on the frontispiece of the book (see the bottom of this page) pointing toward the setting sun at midnight (a metaphor for the Bowes family?). The book can be

read HERE

.
The left hand column above shows the descent of Sir George Bowes from the first Mallory marriage and the second (middle) column shows that from the second Talbot marriage. Anne Maxton is Margaret Craddock's step-aunt, her father (Joseph Craddock) having married Anne's sister Jane Maxton after the death of Margaret's mother Elizabeth Cruse. Margaret Craddock's husband's great aunt was Anne Bowes (last column) who married Thomas Hilton (whose will can be read at the end of this page). Jane Hilton, the daughter of Anne Bowes and Thomas Hilton, married Ralph Delaval whose daughter Mary married George Bowes (first column). John Delaval, whom Anne Bowes married after her husband Thomas Hilton died, was the brother Ralph who married Anne's daughter Jane Hilton. (Confused?). The 'Memorials' of Sir George Bowes (400 plus pages) can be read HERE. Below left is Sir Robert Bowes the brother of Sir George and Ralph Bowes's great, great uncle. Andrew Robinson who married Mary Eleanor Bowes, the widow of John Lyon, was a scoundrel and his trial can be read HERE.
Four members of the Bowes family married four members of the Delaval family; Margaret Craddock's mother-in-law was a Mary Delaval.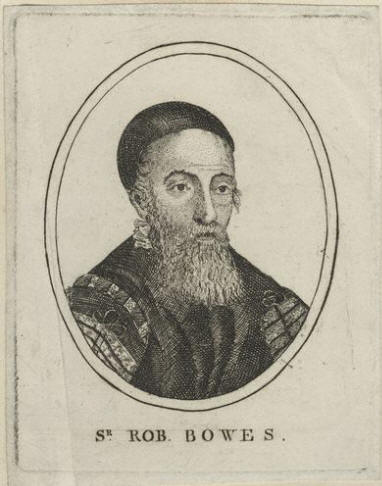 There are some descendants of Margaret Craddock and Ralph Bowes through various female lines. For instance they had a daughter Jane who married Jacob Grieve, Esq. – "1749 [or 1756]. Oct. 16. Jacob Grieve, attorney-at-law, married to Miss Jenny Bowes, second daughter of Thomas Bowes, Esq., of Bradley . . . 1750. Sept. About the beginning of this month Jacob Grieve, attorney-at-law, dismissed Jane, his wife, the youngest of the two daughters of Tho. Bowes of Bradley, esq. He had detected her of tippling and of backsliding with her cousin Benjamin Gray son of Alderman John Gray." – from Six North Country Diaries by John Crawford Hodgson, p. 182. I believe Benjamin Gray's father had married a sister of Elizabeth Pickering mother of Jane Bowes. The attorney's Savile, Wyvill and George Grieve were associated with the Bowes family in a presentation to the Commons. from "A Genealogical and Heraldic History of the Commoners of Great Britain and Ireland, Enjoying…" by John Burke. Written into this book is "Lancelot (merchant of Durham)" as another son. (There may well have been male descendants from this Lancelot) Another daughter of Thomas's, Sarah Bowes, married Captain William Nugent on June 2 1751 at St. Nicholas, Durham. He was an Irish officer in St. George's Dragoons who met Ms. Bowes in the year 1745. (see 'Six North Country Diaries' p. 187.)
Bradley. The lordship of Bradley extends for a considerable distance on both sides of the Wear, the northern portion being intersected by the Bradley burn. The district to the east of this burn is included in the chapelry of Thornley; and that on the west remains attached to the parish of Wolsingham.
The lordship of Bradley, which anciently gave name to a resident family, was held, according to Hatfield's Survey, by Ralph Eure, of Witton, who rendered for it 22s., and also held Sunningside, containing 200 acres, by 20s. rent, and Kittespark and Walkerland by 6s. Sir William Eure, in the time of Bishop Langley, obtained license to embattle and fortify Bradley Hall. At the period of the Northern Rebellion, this estate had become the property of the Tempests, and was forfeited to the crown by the attainder of Robert Tempest and Michael his son for engaging in that outbreak. Queen Elizabeth, as a reward for the services of Sir George Bowes, of Streatlam, Knight Marshal, granted to him the Bradley estate.
Sir William Bowes, Knt., eldest son of Sir George, by Dorothy Mallory, his first wife, was ambassador in Scotland, and treasurer of Berwick, until the dissolution of that garrison by James I. He married, first, Mary, only daughter and heiress of Emanuel Lord Scrope, by whom he acquired great possessions at Waldon, near Chesterfield; and, second, Isabel, daughter of Judge Wray, and widow of Godfrey Foljambe, Esq. He died without issue male, October 30, 1616. Robert Bowes, of Raby, Gent., second son of Sir George, was killed in the Kiswick mines in 1610, unmarried; and George Bowes, Esq., of Biddick, third son, who married Magdalen, daughter of Sir Edward Bray, next heir male to John, last Lord Bray, died in 1606, in the life-time of his brother, Sir William. His son, Sir George Bowes, of Bradley, was next general heir to all the family, and heir in tail to all the lordships; but, by a strange intail, he was dispossessed thereof by a younger son of the second marriage of his grandfather with Jane Talbot and thus the eldest son, by his former wife (Dorothy Mallory), was deprived of his birthright, and only inherited from his father the estate and lordship of Bradley Hall, which had been acquired by a grant from the crown 14th of Elizabeth. The younger branch (second column above), having in this manner become possessed of the immense estates of Sir George. His grandson George married Mary, daughter of Sir Ralph Delaval, of Seaton Delaval, Northumberland, and died in 1643. Ralph Bowes, of Bradley, Esq., successor of the last Sir George, married Margaret, second daughter of Sir Joseph Cradock, of Richmond, Knt., and died November 1, 1681. His son, George Bowes, Esq., married Sarah, daughter of Baker, by whom he had issue six sons and two daughters. He was buried at Wolsingham, February 22, 1729, and was succeeded by his son, Thomas Bowes, Esq., who, on April 29, 1718, married Elizabeth, daughter of John Pickering, of Hedley Hall, and died in December, 1752. His son, Robert Blakiston Bowes. Esq., left issue, by his wife, Ann, daughter of Ralph Clement, of Hilltop, Yorkshire, a son and daughter, and died at Winston in March, 1767. Thomas Bowes, Esq., his son, baptized August 14, 1758, died unmarried at Durham in 1844; and Bradley is now held by his representatives.
Bradley Hall occupies a retired and romantic situation, to the east of the Bradley burn, and on the north side of the road between Durham and Wolsingham. It is a massive oblong pile of building, of considerable antiquity, and has been for many years dismantled and becoming ruinous. It is supposed to be the house which was fortified by the Eures, as the strength of its walls and the remains of deep moats would seem to testify. The lower apartments are all vaulted. A projection in front is of a more modern and elegant character. Its basement story consists of three low arches; and above the centre one is a recess, in which is a light pillar, supporting circular arches, and surmounted by a battlement. Bradley mitt is situated on the Wolsingham side of the Bradley burn.
WILL OF THOMAS HILTON
[NOTE: Thomas Hilton, the testator, was son and heir of Sir William Hilton of Hilton, knight, and died v.p. By his wife Anne, daughter of Sir George Bowes of Streatlam, knight, he had issue eight sons and two daughters. His widow remarried Sir John Delaval of Dissington, knight. The original will is much decayed.]
Feb. 14, [1597/8.] In the name of God the Father, the Son [and] Holy Gost, Amen. I, Thomas Hilton, 1 weake in bodye by longe sicknes, but stronge in faith [tow]ards Jesus Christe my Saviour, assured in hope of eternall joy, and in memorie of ordering my worldly affairs perfect and sound, do make this my last will and testament in manner and forme following, viz.: First, I commend my sins to the Lord's everlasting mercies, myself into the hands of Allmighty God my Creator, my soul into the hands of Jesus Christ our Saviour, through the blessed sanctifying of the Holy Ghost.
Secondly, my earthly body I do commend unto the earth from whence I received it. All other my worldly blessinges wherof the Lord hitherto hath maid me steward I bestow and bequeath as followeth, but first of all I make my loveing wife, Anne Hilton, and my children, George Hilton, Robert Hilton, Fraunces Hilton, Matthew Hilton and John Hilton, the sole and . . . . ite executors of this my last will and testament. Farther, I do give and bequeath to my sons, George [and Ro]bert Hilton, and to ye longer liver of them, my lease of Fameton Hall which I lately …. by lease of the …. cene. I d[o] give and bequeath [to my] sons Fraunces Hilton, Matthew Hilton and John Hilton, the whole rectorie or parsonage of Monkwearmouth with all the purtenances th[ere]unto belonging equally to be disposed among …. my three sonnes for their three lives and to the longest [liv]er of them three accordingly, after whose decease my w[ill] is that the inheritance of it returne unto m[y] eldest sone and heir, Henry Hilton, and unto his heirs male …. [l]awfully begotten …. ever, and failing thereof t …. to return to my executors and their heires …. ever. I do give and bestow upon my wife [A]nne Hilton, all my title and tearm of years of the Foorde …. Ide which I tooke lately of my father. My quick moving goods I do give and bequeath to my wife and my two daughters, Jane Hilton and Marie Hilton, tow[ards] their better preferment in honest mariage. I …. give unto my servant, Thomas Teesdall, for his f[ai]thfull service done and to be done to my wyfe and he …. the lease of his father's farm in Awsten-moore for twenty and one years. To my old servant, Richard Yasey, I give a new lease of his farm, in reversion of his former, freely without any fine.. I do give to my servant, Nichall Todde, forty shillingd. To ye poore people of my own parrish I doe give five [mjarkes in monie. All my dettes dew to me I give amongst my executors. All other my goods and ch[att]ls what forme soever not formerly bequeathed I doe give and bestowe upon my executors, my detts, if anie ther be, my legacies and honest and seemelye funeralls oute of all my goods first discharged. I doe also order and charge all my children, sonnes and daughters, to be obedient and duetifull to their mother, whome I doe constitute and a[ppo]inte to have the government both of them and their po[rti]ons untill my sonnes be of lawful! age by lawe to [ha]ve the use of their estates in their owen hands, and untill my doug[h]ters, with the consent of their m[o]ther, be coupled in honest manage answerable to t[heir] father's childr[en]. Lastly, I doe make and constitute by my earnest intre[ty]e my father [Sir] William Hilton, my brothers Talbot Bowes, Robert Bowes, George Bowes and Raphe Bowes, supervisers …. iringe good orderes of this my last will and testament, whose brotherlye …. faithfull favour for the loveinge performance in true peace of …. premises in all love I crave of them to see unto. [I ch]arge my wyfe and children, to [be] advised and directed …. by their goodly wis- domes in all good counsels [t]o eache of them I doe for remembrance …. a rinee of golde to be worne by them. In cons …. tion and testimonie of this my last will and testament I have this 11 of F[ebr]uarie subscribed my owen name and putte my seale of armes. Witnesses, William Hilton, Mychaell Constable, William Constable, Robert Smith, etc. [Pr. 1598.]